So button up, and aye be cheery, and tak a dram afore ye go.
We are very lucky to have our own Distillery here at Ardnamurchan.  The Distillery opened in July 2014 to begin the process of producing whisky.  Ardnamurchan Distillery sits on the shores of Loch Sunart at Glenbeg.  A key part of the Distillery's identity from the very start that it should be run on green and sustainable principles.
Uniquely in the whisky industry, all the power and heat requirements for the Ardnamurchan Distillery come from local renewables – the river that provides the distillery's cooling water has a hydro-electricity generator and the biomass boiler is fuelled by woodchip from local forestry – the overall footprint of the distillery is a light one. In addition, the by-products of the whisky-making process are recycled on the peninsula – the still energy-rich draff (what's left in the mash tun) being used to feed all the livestock on the peninsula, and the pot ale (what's left in the stills) as fertiliser.
At present the Distillery is open Tuesday to Saturday (closed Sunday and Monday) Open from 10 – 5, and offer tours from 10 – 4 on the hour.
Please contact the distillery for more information on 01972 500 285 for more information.  The team there will be very happy to help you.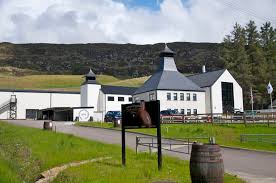 More from our blog..