Shrove Tuesday or Pancake Day
Shrove Tuesday (also known as Pancake Tuesday or Pancake Day) is the day in February or March immediately preceding Ash Wednesday (the first day of Lent), which is celebrated in some countries by consuming pancakes. This moveable feast is determined by Easter.   Did you know that other (non-commonwealth) countries have their version of Pancake Day?
In Germany, the day is known as Fastnachtsdienstag, Faschingsdienstag, Karnevalsdienstag or Veilchendienstag (the last of which translates to violet [the flower] Tuesday). It is celebrated with fancy dress and a partial school holiday. 
In the Netherlands, it is known as "vastenavond", or in Limburgish dialect "vastelaovond", though the word "vastelaovond" usually refers to the entire period of carnival in the Netherlands. In some parts of Switzerland (e.g. Lucerne), the day is called Güdisdienstag, preceded by Güdismontag. Venetians have long celebrated carnival with a masquerade. The use of the term "carnival" in other contexts derives from this celebration. 
In Portuguese-, Spanish- and Italian-speaking countries, among others, it is known as Carnival (to use the English spelling).  It is often celebrated with street processions or fancy dress. The most famous of these events has become the Brazilian Carnival in Rio de Janeiro. In Spain, the Carnival Tuesday is named "día de la tortilla" ("omelette day"): an omelette made with some sausage or pork fat is eaten. On the Portuguese island of Madeira, malasadas are eaten on Terça-feira Gorda (Fat Tuesday in English), which is also the last day of the Carnival of Madeira.  
In Denmark and Norway, the day is known as Fastelavn and is marked by eating fastelavnsboller. Fastelavn is the name for Carnival in Denmark which is either the Sunday or Monday before Ash Wednesday. This holiday occurs seven weeks before Easter Sunday, with children dressing up in costumes and gathering treats for the Fastelavn feast.  In Sweden, the day is called Fettisdagen (Fat Tuesday), and in Finland and Estonia the day is called laskiainen and is generally celebrated by eating green pea soup and a pastry called laskiaispulla (sweet bread filled with whipped cream and jam or almond paste, same as the Swedish semla). 
In Iceland, the day is known as Sprengidagur (Bursting Day) and is marked by eating salted meat and peas. In Lithuania, the day is called Užgavėnės. People eat pancakes (blynai) and Lithuanian-style doughnuts.The celebration often includes downhill sledging.
However, the big question for today is which version of pancake do you go for?  Here in the office there is a debate with the Scottish contingent going for the "dropped Scone" pancake version, and our English contingent going for the "crepe" pancake version.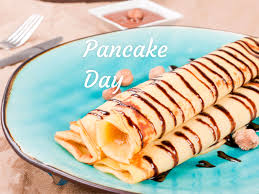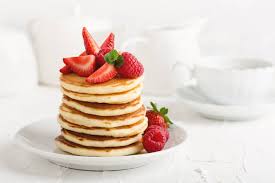 More from our blog..